O2 Oxygen Lambda Sensor Extension Emulator Fooler Extender Spacer Universal M18 Fitment - De-cats & Sport cats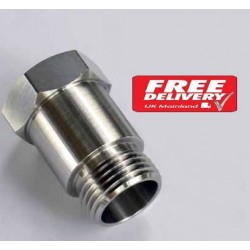 O2 Oxygen Lambda Sensor Extension Emulator Fooler Extender Spacer Universal M18 Fitment - De-cats & Sport cats
If you have a decat or sports cat performance exhaust fitted, due to the increase in exhaust emission, the ecu would think that the engine is at fault, causing the EMI engine management light to come on.  When fitted with o2 spacers, it will space out the o2 sensor and the exhaust gas, giving the sensor a correct reading. Once you have fitted these, you may require to reset the ecu by either using a code reader or to disconnect the battery for 1 hour. It is important that you have it dealt with asap, as the increase in emission can sometimes cause certain cars to go into limp mode. Note: some cars with higher emission requires more than 1 spacers. Please note that o2 spacers does not fix bad o2 sensors, so it is important that you check that the EMI light is not actually related to bad sensors in the first place.
Features
►suitable for decat or sports cat
►Direct Fit 
►Simply unscrew your o2 spacer and scew on our o2 spacer
►No Soldering / cutting /  drilling required
►More reliable than electrical o2 device 
►M18 universal fitment
►ECU clear is recommended after installation
Write a review
Your Name:
Your Review:
Note: HTML is not translated!
Rating:
Bad
Good
Enter the code in the box below: